Home
> President's Message
President's Message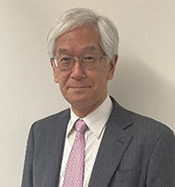 Message from the President
Makoto Yamamoto
I am Makoto Yamamoto, a Professor at the Tokyo University of Science. I have been appointed as the 2023 President of the Gas Turbine Society of Japan (GTSJ), succeeding the former President Yasufumi Fukuizumi, Mitsubishi Heavy Industries, Ltd.
GTSJ was established in 1972, and it celebrated its 50th anniversary last year. We have started the next 50 years for the 100th anniversary. GTSJ aims to promote science, technology, and social development through information exchange, publication, technology research, and other activities in the field of all types of gas turbines, and energy conversion systems. As one of the activities to achieve these aims, three types of conferences are held; The annual conference (every year, in Japanese), The Asian Congress on Gas Turbines (every two years, ACGT), and The International Gas Turbine Congress (every four years, IGTC). Since IGTC2023 will be held in Kyoto this year, we look forward to your active participation.
Now, Japanese and international societies are facing a time of great reformation. Efforts to completely change the current society, such as the establishment of a decarbonized society as a countermeasure against global warming and the realization of an information society such as Society 5.0, are progressing rapidly. Science and technology will play a major role in these social reformations, and further technological innovation is required for gas turbines and energy-related technologies. Many efforts have already been underway, including the use of decarbonized and sustainable fuels such as hydrogen, ammonia, and bio-oil, the construction of supply chains, coexistence with renewable energy, and the electrification of aircraft. Conversational artificial intelligence, which has become a hot topic recently, also has the potential to greatly change technology, human resource development, and education. Whether or not the gas turbine-related industry will continue to develop and the Society will be able to celebrate its 100th anniversary will probably depend on technological innovation and human resource development over the next 20 years (?). In that sense, it is necessary for all engineers in gas turbine and energy-related fields, especially young engineers, to make further efforts, and I believe that it is an important mission of GTSJ to provide strong support for this.
On the other hand, the number of members of this association has decreased by about 200 compared to before the COVID-19 pandemic. Considering that many academic societies in Japan have reduced their membership by about 30%, it can be said that GTSJ is doing well. However, the decline in young members is a miserable situation. Unfortunately, it is not seen as worthwhile or attractive enough for young engineers to pay the membership fee. This might become one of the global issues in academia. Considering that the method of obtaining information has become obsessed with the Internet, and young people tend to be less active in building human networks (drinking parties?), there is a clear and attractive value for young engineers who should be responsible for future technological innovation and social reformation. New academic activities are required. Attracting young engineers to GTSJ and gas turbines, providing them with new value and appeal, and supporting them in developing human resources who can play an active role in the gas turbine and energy-related industries in the future is an urgent issue for GTSJ. Based on this recognition, we are trying to start a new initiative.
Finally, I would like to conclude my inaugural address by wishing the engineers in gas turbines and energy-related fields good health and continued success.